Winchester Large Rifle Primers #8-1/2 Box of 1000 Details
These non-corrosive, all weather primers deliver fast, dependable ignition under any shooting condition.  Primers are constantly and rigorously tested for consistency and sensitivity at temperatures and conditions far beyond the range of normal usage.  Winchester guarantees better sensitivity for more positive firing in all guns, carefully-controlled weights of primer mixtures, consistency in size and quality, precise measurements and tolerances for anvil heights and stability in extremes of temperatures and humidity.
Looking for load data? MidwayUSA offers many fantastic reloading manuals that offer load data on hundreds of cartridges. Browse the Books & Videos section of our site, or search "Reloading Manual" to see our offering of manuals.
Box of 1000: 10 Sleeves of 100
Box of 5000: 5 boxes of 1000
Buy the Winchester Large Rifle Primers #8-1/2 from our website.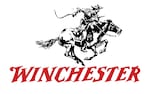 Made In United States of America